Cipovka - Nematerijalno kulturno nasledje
Cipovka - Intangible Cultural Heritage
A group of researchers from Vojvodina has launched a campaign that traditional skills of making bread - CIPOVKA has been added to the UNESCO list of intangible cultural heritage.
Secretariat of Economy of the Autonomous Province of Vojvodina financially supported the continuation of the project - Cipovka in 2015. 
Tradicinalni, svakodnevni " hleb  za ponos " u Vojvodini je Cipovka! U Vojvodini su seljaci (paori), a kasnije i profesionalni pekari,  pripremali beli pšenični hleb sa kvascem (komlovom). Karakteristika ovoga hleba je loptasti oblik, izuzetno prijatan miris i ukus, laka svarljivost i svežina od nekoliko dana. Veličina hleba zavisila je od broja ukućana, a prosečna masa bila je od  3 do 5 kilograma. CIPOVKA
Foto dokumentacija - Press     - Циповка – Наслеђе у брашну, води и мало соли
VARIOUS EXIBITIONS
Bread in the Great War
Ritual and Holiday Bread
Bread on the Medieval Frescos
Ex-libris - Bread 
Water Mills
Bread in Egypt
Wind Mills
Civilisation of Bread and Beer
Russian (USSR) Baking Posters
In the tsarist Russia its object was industrial growth and introduction of a new product brand, and in the USSR it was expansion of a new ideology and its economic achievements, that is to say spreading of a new optimism. Thematically their message is connected to bread and bakery, but in terms of the subject matter they show actual economic and ideological processes through the images of a stylish lackey in 1897, a new manufacture brand in 1915, a young komsomolka with ruddy cheeks in 1939, character of Charlie Chaplin in 1941 to the image of cosmos expedition in 1959.
International Ex-libris competition - BREAD - CULTURAL HERITAGE
Contemporary artists about bread
Four hundred and twelve (412) artists from forty eight (48) countries with eight hundred and twenty two (822) works have participated in the competition. An international jury has awarded the best works and has chosen around two hundred works to be displayed at the exhibition.
The theme of all the works is Bread - Cultural Heritage, but the perceptions of the artists themselves are very diverse and depend on the culture they come from, the generation they belong to and personal affinities. Therefore the works displayed represent a colorful mosaic of ideas, art, and the techniques that were used. I find such variety best represents the different customs, traditions, histories, religious relationships and cultures related to bread. Note on the work of the Jury. 
Bread Smiles on the Moon
New project
Every region of Europe takes pride in its own, characteristic type of bread. These are not 'special occasion' breads made for a particular celebration or ritual. These are the breads served daily. All of these 'take-pride-in breads' are the result of a culture's baking skills and differ according to how they are prepared, type of flour used, shape, taste and smell. Traditional, everyday 'take-pride-in' bread in Vojvodina is called Cipovka! more ...
Bread in the Great War - Serbia
Photo exhibition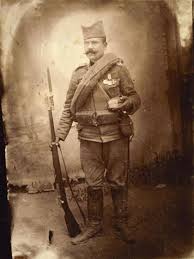 The intention of the authors of the exhibition – Dimitrije  Vujadinović, in cooperation with Slobodan Jeremic Jeremiah, owner of Serbian museums of  bread . and Prof. dr. Nedeljko Jokic, a retired colonel and expert on nutrition in the army, is to show the importance of the "soldier's bread," not only as food but also -  the wonder of bread as living treasury of collective memory and testimony about the ethical and symbolic values ​​of people's lives and in the most extreme existential conditions, such as the war. 
The story of a soldier Aleksi Zdravkovic and military bread - tain ,Aleksa Zdravkovic, a soldier from Pirot, during the mobilization in 1912 received military rations of bread, which, despite the many challenges and troubles, during six years of war, did not eat.Wars have taken him from Pirot to Bitola and Prilep, in the Balkan wars, and the Mačve to Thessaloniki in the First World War. Aleksa Zdravkovic, after six years of war back home.
Jeremija - Serbian Bread Museum
Pecinci, in the province of Vojvodina
Bread Festival 2008
Ex-libris - "BREAD - CULTURAL HERITAGE"
BALKANKULT FOUNDATION, ERICARTS INSTITUTE, ANKARA EX-LIBRIS SOCIETY,THE BREAD MUSEUM, Ulm and BELGRADE EX-LIBRIS CIRCLE,
have decided to organize an international ex-libris competition on the subject of BREAD-CULTURAL HERITAGE, to support co-operation amongst persons active in culture and media, artists and entities world wide, and help develop communicational, professional and technical transborder artistic and cultural ties and independent exchange of information.
GALLERY OF BREAD MUSEUMS IN EUROPE
Les Musees du Pain En Europe/ Brotmusseen in Europa / Musei Del Pane in Europa/ Broodmusea in Europa
start Slideshow