THE LOAF CIPOVKA – BREAD "SMILES AT THE MOON"
Cipovka - hleb koji se smeje na Mesec
Culture and history of bread in the Serbian region of Vojvodina
Every region of Europe takes pride in its own, characteristic type of bread. These are not 'special occasion' breads made for a particular celebration or ritual. These are the breads served daily. All of these 'take-pride-in breads' are the result of a culture's baking skills and differ according to how they are prepared, type of flour used, shape, taste and smell. Traditional, everyday 'take-pride-in' bread in Vojvodina is called Cipovka! Bread and bakery products have an important role in Serbian everyday consumption. Cipovka, typical Sebian bread, is produced in significant quantities in various parts of Serbia, especially in Vojvodina.
Peasants in Vojvodina, later professional bakers, prepared white bread – Cipovka, with yeast. Characteristic for this bread is its exceptionally pleasant smell and taste, easy digestibility and freshness of several days. The size of the bread depended on the number of household members and it`s average weight was 3 to 5 kg. Video
 More  - Više Hleb koji se smeje na Mesec
Radi Beograd II program, emisija Klub 2 (21.11.) -  tema emisiji, tredicionalni vojvođanski hleb - Cipovka
Radio Beograd II, emissions Club 2, topics - traditional Vojvodina bread - Cipovka
"There is not a thing which is more positive than bread". Dostoevski
Bread Cultural Heritage
Bread is one of the greatest discoveries of human beings! There is no doubt that Bread is the most present food at table worldwide. But, Bread is not only food, it is a symbol of spirituality and reflection of cultural traditions. The secret of Bread lies in its true gastronomic, spiritual and cultural uniqueness. Religious Breads are present in every period of human life, from birth to death, end even after death. The story about  Breads is a story about the ethical and symbolic life of humans which has always been actual! Because of that this story should not be forgotten! 
Bread and Culture - World's Heritage is envisaged as a mosaic programme of research, information and educational projects, taking also into account the symbolical role Bread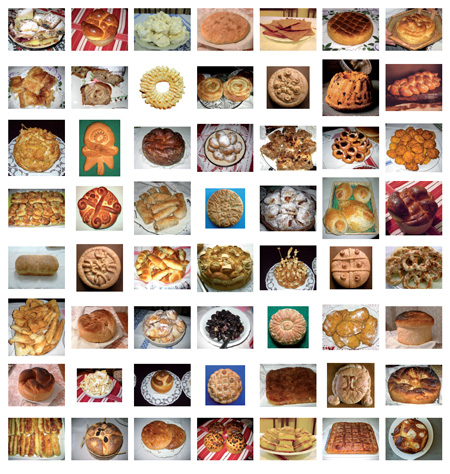 plays in our religious, cultures and everyday life. With those aims in mind we started to work on various long-term projects. 
The programme is officially a subsidiary  project of the "European Food Project" of ERICArts (European Research Institute for Comparative Cultural Policy and the Arts) 

http://www.ericarts.org/web/projects.php?aid=62&al=&rid=999.
The programme has established a collaboration with:
Internationa Institute of Gastronomy, Culture, Arts and Tourism -
IGCAT
Centre de Recherche et d`Etude de la Boulangerie Et des Ses Compagnonnages - 
CREBESC
The project  
"

Les civilisations du pain" 

.